Husani Oakley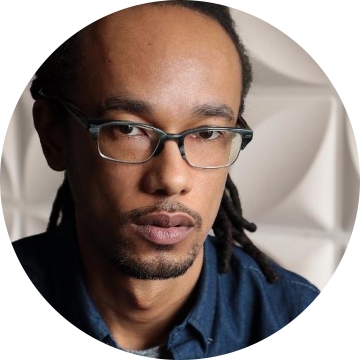 Husani S. Oakley is the Chief Technology Officer at GoldBean, an online investing platform that helps people start their investment journey with companies and brands they love, know, and buy. He is a veteran technologist who has spent over fifteen years building world-class digital experiences that bridge the gap between art and science. His creative, technical, and production leadership in the advertising industry has been recognized by One Show, AICP, Webby Awards, and the FWA, and he's spoken at conferences such as SXSW, ADMA, Digital Dallas, and Internet Summit.
A co-founder of Flavorpill Productions, Atlantico USA, and Oakley+Partners, Husani's most recent role was Director of Creative Technology at Wieden + Kennedy, creating campaign work for Nike, ESPN, Heineken, Delta, and Target. Because he drinks entirely too much coffee, Husani is also the Executive Producer and Creative Director of Sessions In Dance, a modern dance company.
Appearances
Episode

113 Standing on Turtles
Our technology has gotten really complicated. Sometimes we get so deep into our work, we lose sight of what matters. We have hundreds of choices to make — "Which tool should we use?"; "Should we change what we are doing, or stick with what we've got?"; "Do I keep solving this problem, or move on to the next one?" — how do we ever decide? Husani Oakley joins Jen Simmons to debate these questions and more.
In This Episode
Why do we get too enamored with details that don't matter, and forget the big picture?
How do we find the balance between taking time to "do things right" vs making sure we keep getting work done?
When is it time to make a style guide, or create a deployment system, or restructure how things are organized, and when is that a waste? How can we tell?
When should we refactor old code — or not?
How can we fight the haze of getting so deep into work that we loose focus on why we are doing what we are doing?
The value of true diversity on teams
What is a full-stack developer? designer?
What's a full-stack thinker?
How separate silos of development and design don't work — because of the turtles
How collaboration works in a world where the work isn't ever really done
The role of a Product Manager
The role of a sprint planning and a sprint review meeting as the opportunity to connect back to why we are doing this work
How we tend to assume that more technology, more complexity, is always better. Is it?